Ashwell Farm & London
Posted by
hella
on Sep 10 2014 in
UK 2014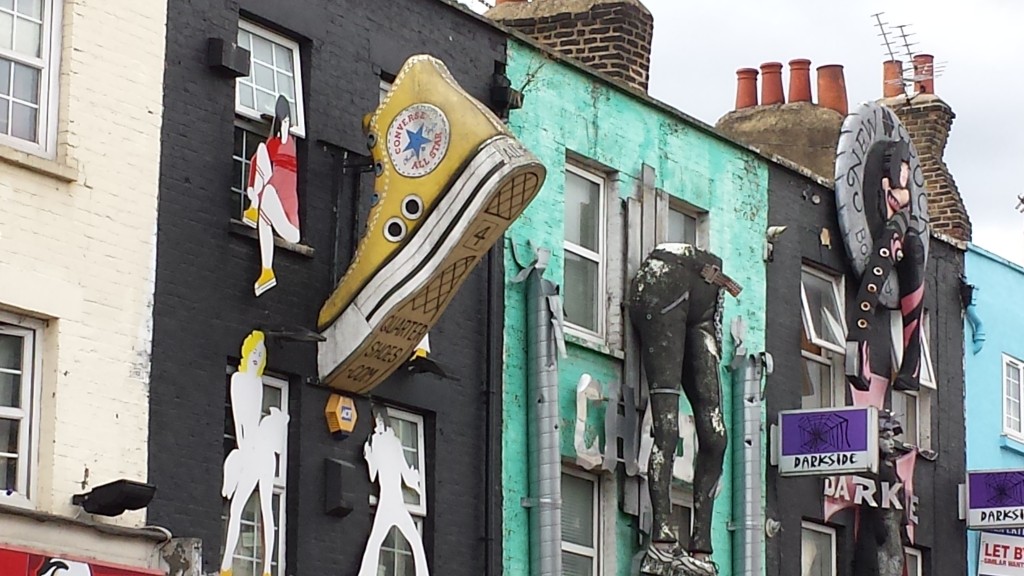 Heyho, we're back once again =)
The next morning we built down our tents very early to head close to London (of course not without any coffee). We did the way without any spectacular occasions until we stopped at a Lidl. There we got some foodstuffs (e.g. Babybel for the junkies) and searched for the next fuel stop veeeery urgently!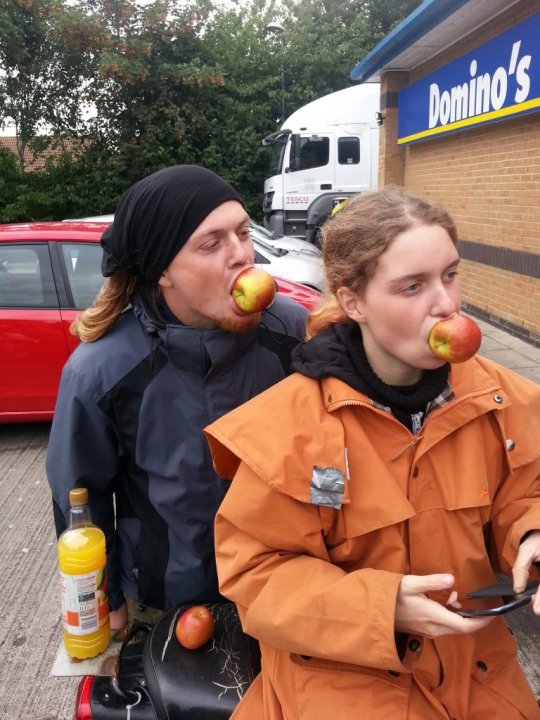 On the way to the petrol station (it was just about 1mile to drive) Moprüs scooter felt like he had worked too well for the last few days and again it did not speed up sometimes. At the petrol station we couldn't be sure whether it worked or not, but because we had already organized a place to stay for the night, we decided not to care about it and drive on. Again the little diva thwarted our plans -.- And of course it did not stop in a town or at a small road where one could stop without danger – noooooo! Of course it searched for the biggest street with the most traffic on it! Fortunately we were able to drive to a parking lot (very slowly) and I felt like the scooter had become louder on the way and so I asked the guys to have a look at the exhaust.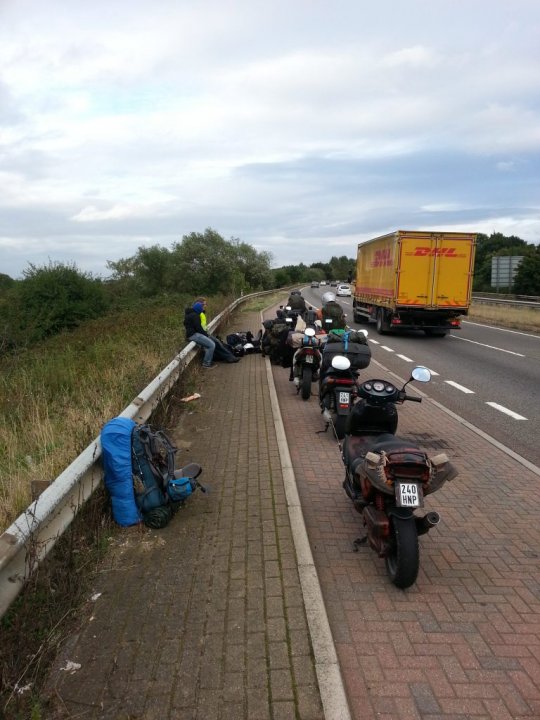 And that was it – only one screw had screwed our driving ;) It just loosened and the whole scooter didn't work anymore. Anyway, it had cost some time to find out about it and we had to drive another two hours. So we hurried off and reached Ashwell Farm when it was already dark (again...). It was quite difficult to find the farm because in the dark you couldn't really see anything and the farm was a little hidden...
We built up our tents while Schwabi and Nora went to get some food. There was a nice little pavillion and no other people so we needn't take care. In the morning we wanted to go to London, but first we inspected the farm a little. It was a "little" messy. Everywhere lay more or less useful stuff like a hearse and a Cadillac and and and... Most of it seemed to be quite worthy, but it just lay around there.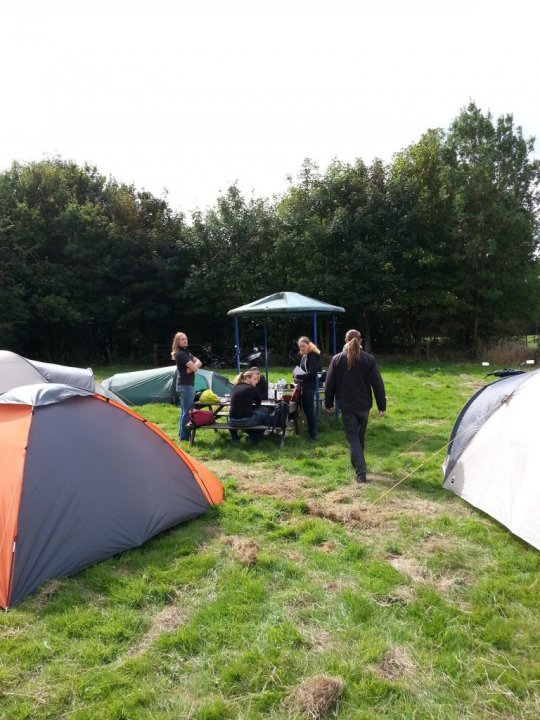 We went to London. Well, actually we went to Camden Town 'cause we just had one day and a city like London would take more time than just one day. On our way to Camden Town we met a bus driver not knowing where he would drive... strange guy. But the metro was pretty cool =)
Camden Town was... overwhelming. Everywhere people – tourists, Londoners, working people – everywhere shops, everywhere a different taste and different music. And the people were that different themselves! You didn't stand out if you wore a really outstanding costume out of the Middle Ages or a Burka or had your hair dyed neon-blue... We separated and decided to meet again at some certain time because otherwise it would have been too stressful. Some went shopping, some just enjoyed the crowd and drank some coffee and some went for 221B Baker Street =)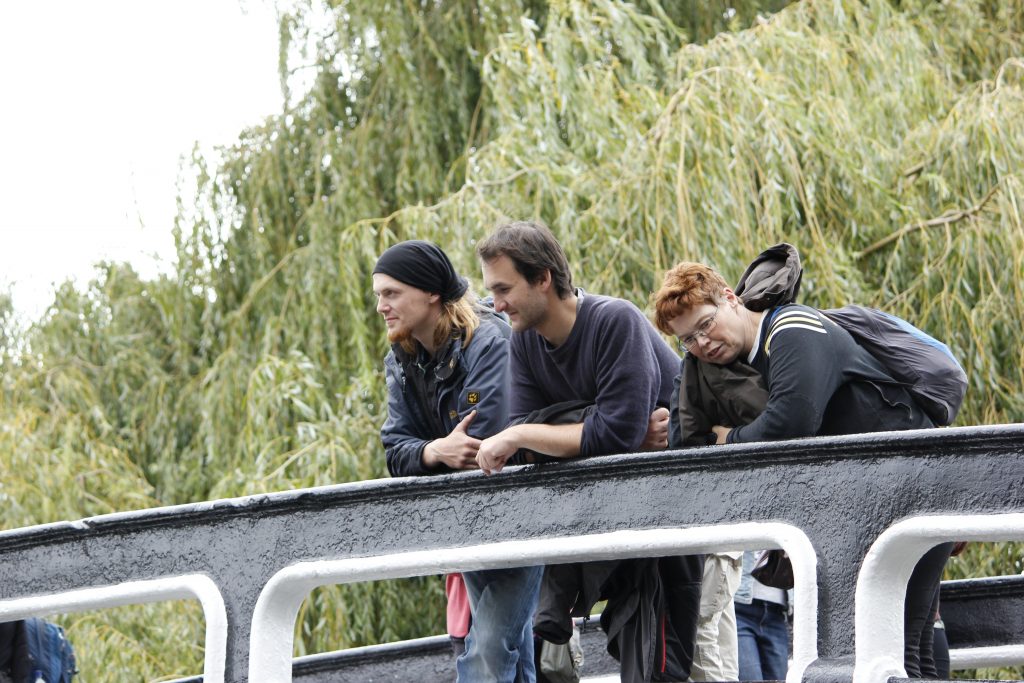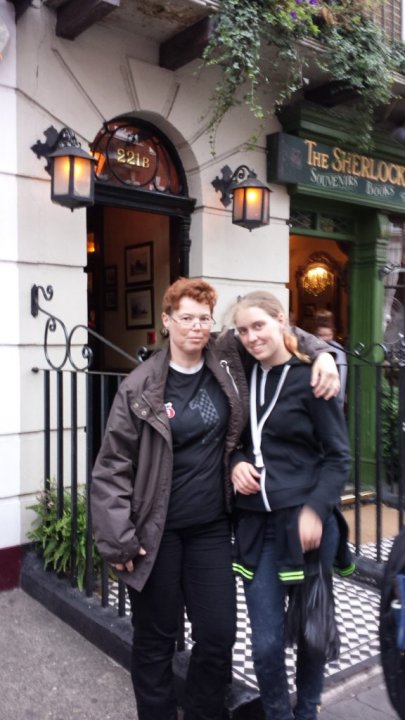 When coming back we were happy our scooters were in the parking lot where we had left them in the morning, since it was forbidden to park there for longer than two hours (we had parked them there because some English had told us nobody would care anyway). We bought some BBQ stuff again and had a really great evening with a wind shelter out of tarpaulin.
The next morning Alex had a little... funny experience on his way to the strange "toilet container" concerning geese ;) But pictures tell more than words!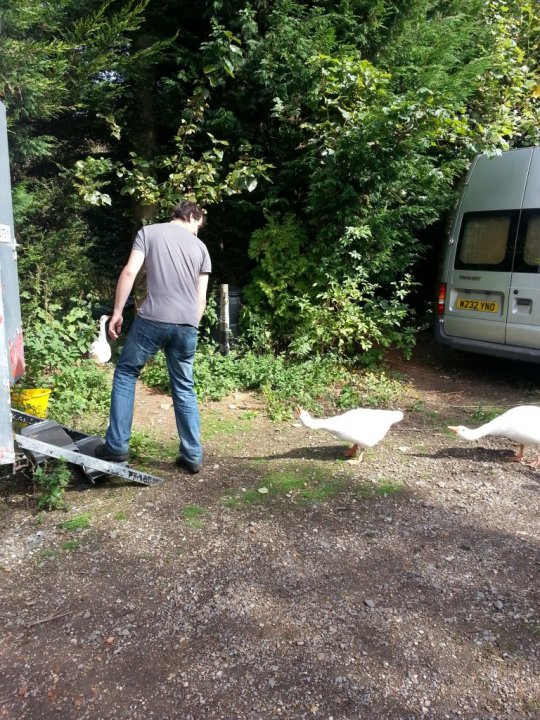 But nevertheless, geese are not the most intelligent animals on this planet – they escaped their cage. That doesn't seem that stupid, but they were that curious that they just walked around. Therefore they didn't know anymore where they were and were really, really scared... Stupid animals.
Greets, Lena & Hella