Status report :P
Posted by
harfroc
on Aug 22 2014 in
UK 2014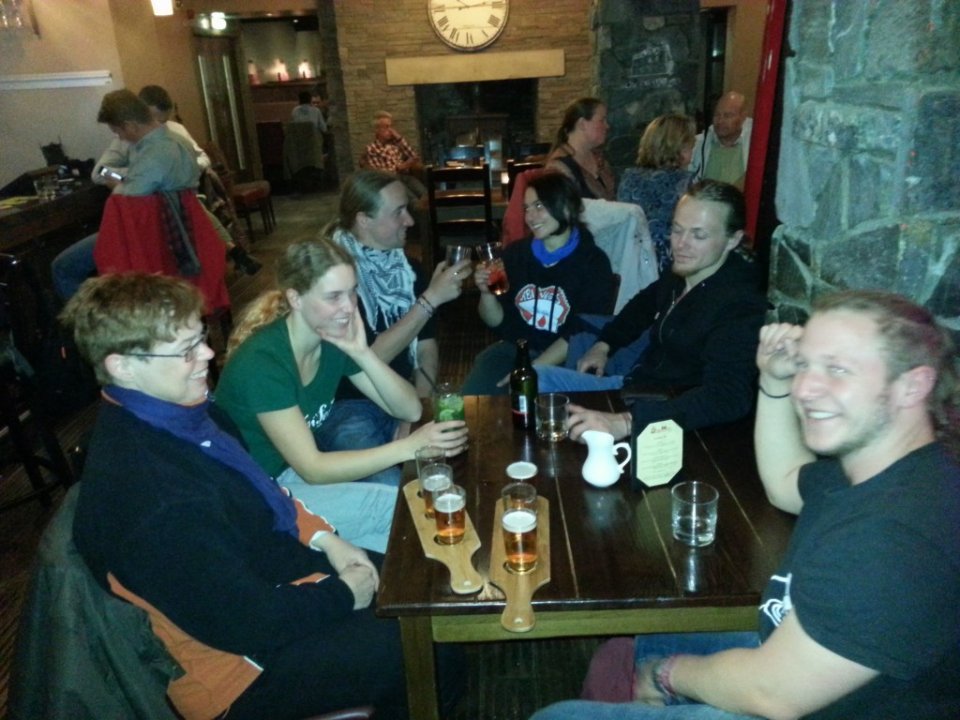 Day five has just begun
… a little review on the last time ;)
On Monday, we arrived at Edinburgh airport at 15:15. After we met with Arthur and the scoots on a sidewalk of the A8, we had to look for damages, happening to the scoots during the transport. The result was shocking. In the very beginning two of seven were starting, one sparkling plug was destroyed and Fabis fuel tank was broken. In the afternoon we reached a supermarket - Scotmid - in a village called Ratho, where the people let us stay on their parking, for repairing the two remaining scooters. As we were not able to finish the works on the first day, we looked for a place to sleep. The result was, that we arrived at Linwater Caravan Park at 11 p.m, a very nice camping area, with very helpful people. They told us, where to find the spare parts for the scoots. At least we always kept up the good mood – in spite of all the problems.
The next day, we were still working on the scoots next to the shop in Ratho. We could find the problem, that Manus one had a too small carburetor jet and fixed Fabis fuel tank, but it was too late, to get a new jet. So Arthur - who was stil staying with us - took Fabis scoot to Linwater with the trailer and Manu drove with Fabis jet. Finally there, we hoped to get the scoots ready the next day. In the evening we had a little barbecue, some cider and wine :)
Day three. After last works all scooters were running. We started about 16:00 northern, and Arthur left southern. Still Manus scoot had nearly no power in the speed range from 10 to 25 miles, but we wanted to try it. In the afternoon we started towards Pitlochry – 65 miles northern of our camping spot. This should end in a very short trip, as Fabis scoots fan belt got broken and we had to stop after 20 miles in Cowdenbeath. We found a fish and chips shop there, and also a nice camping spot in the nature near a small lake.
Also the night was very rainy, we started in the early morning of today with further repairs on the two scoots. Small changes were made, and then it seemed, as if they both were working very well; When we decided to start, we were given a shock, when we had a look at the other scooters: someone tried to steal them, and some were damaged – but we were able to fix everything (I guess no tool, we took with us, was too much). So we decided to make up against Pitlochry again (yep, I really NEED to get there, as there are several distilleries). Fabis scoot made the trip very well, and I think we can assert it works now. However Manus one lost its motor power at the half of the way. We tried to take another look at the carburetor and the variator and afterwards it ran again. Although we can see, that some problems with the motor power will come up every 30 – 40 miles by now, we're very glad, that we reached Pitlochry. We decided to spend the night in a youth hostel "The Backpackers", instead of camping and got some drinks in The Old Mill Inn.
Now we're sitting in the lounge of the Backpackers, starting the day with some coffee. Soon we'll take a further look at the scoots, and – of course – at the distilleries
Greets, Mart